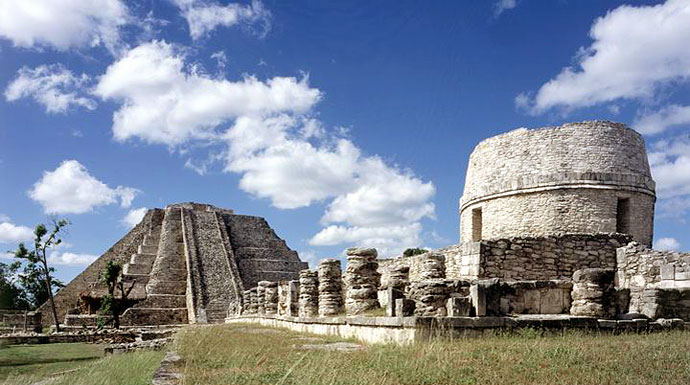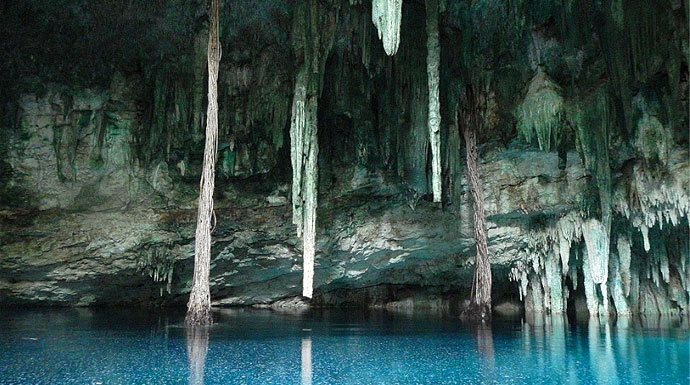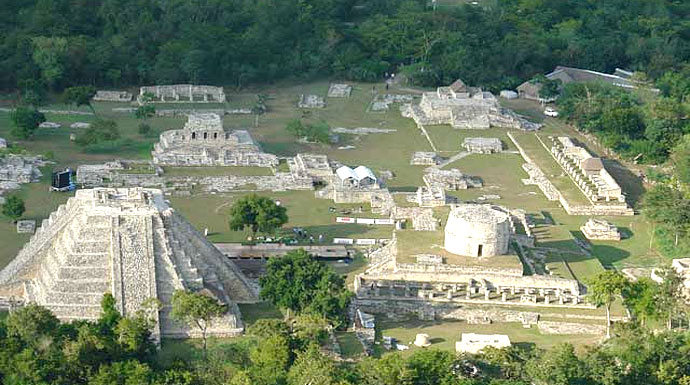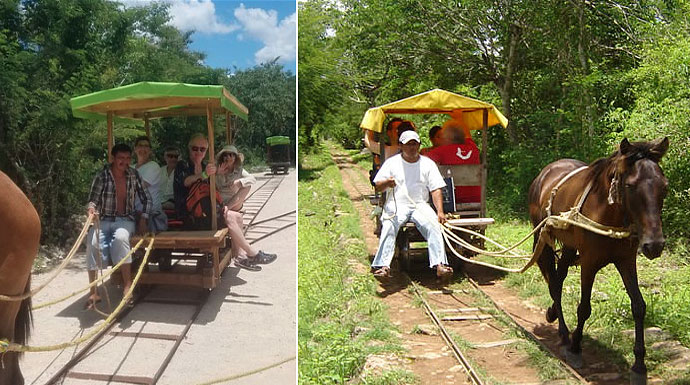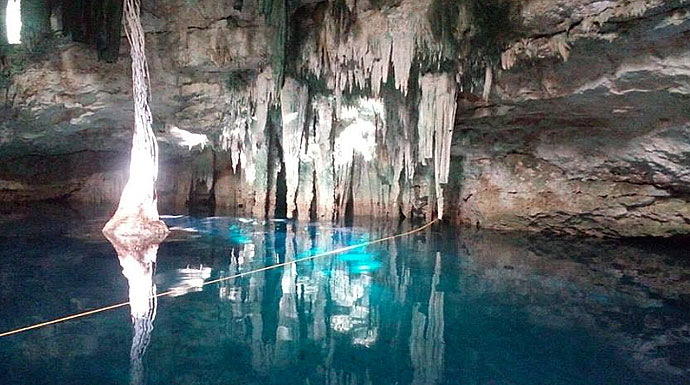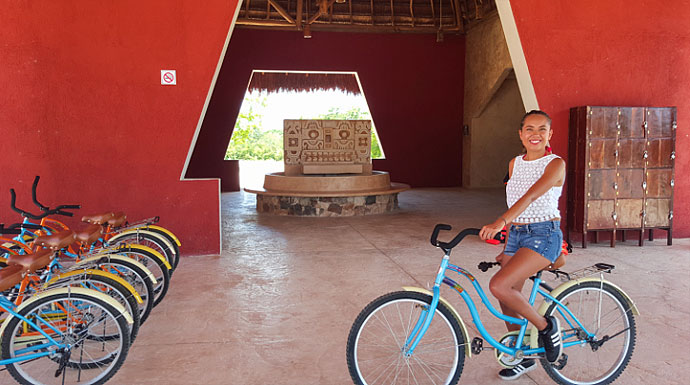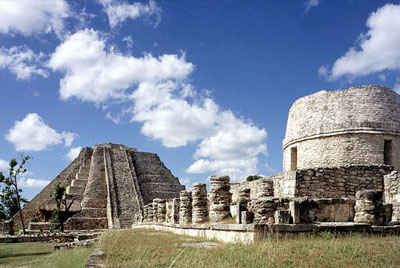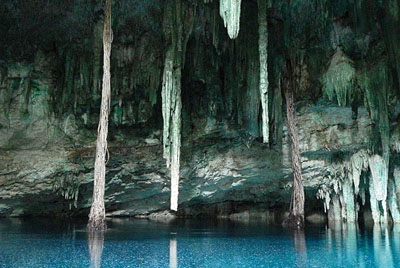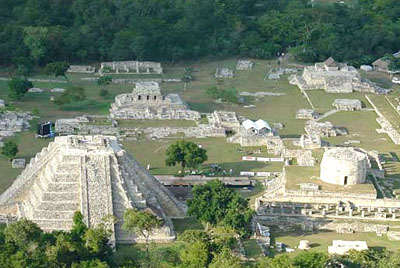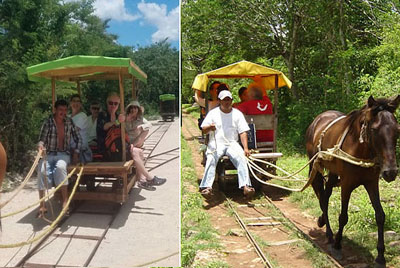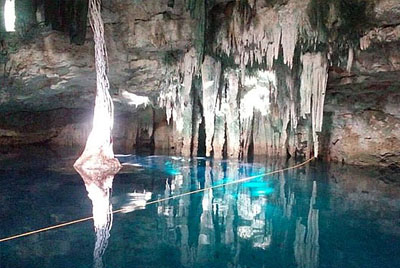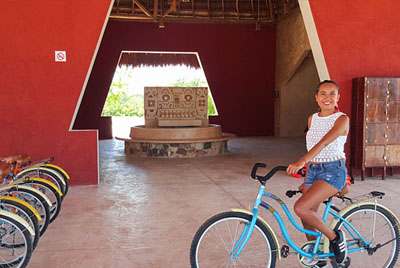 ---
Mayapan and Homun Town
You will be amazed by Mayapan and its towering Temple of Kukulcan, a terraced pyramid similar to the one found at Chichen Itza, around which are dozens of temples, altars, shrines and residences, many adorned with colorful murals and well-preserved stuccos.
The Mayan Flag the ancient walled city of Mayapan is considered as one of the most important cities in the post-classical period. Mayapan is however, an archaeological site with not many visitors per year. The people from this town were well-known by their enormous interest and knowledge about astronomy and mathematics. Mayapan will leave you totally astonished and full of admiration as soon as you step on these mayan sacred lands.

You will travel over time visiting this place where almost than 4000 of ancient Mayan monuments as been discovered.

Some people called this Mayan City "The little Chichen Itza" due to its enormous resemblance to this amazing Mayan Ruins. Mayapan it's also considered the last capital of the Mayan World.

Mayapan was built to resemble to the city of the Itzaes many of its structures are identical to those founded at Chichen Itza, but on a smaller scale. This place is located about 40 kilometers from Merida City.

Come and discover what the Mayan want to tell you about this unusual Mayan site!


Homun Town is located in one of the main Cenotes areas in the Yucatan Peninsula. In here, you will able to find different types of Cenotes such as close, semi-close and caverns. Come and cool off enjoying its cristaline clear waters with tiny variation of blue colours making it unique and the reason why these are considering the most beautiful cenotes in the Yucatan Peninsula.

This route has become popular, due to the peculiar way of arriving to the Cenotes. You will travel through the jungle; this journey consists of visiting 3 underground Cenotes on board of this beautiful trucks.

These trucks are small platform pulled by horses with comfortable seats; This kind of transportation was used to helped the Haciendas (Ranch) to transport the henequen plant from the field to the machine house and process it. Travel into the Mayan jungle with the truck is a rustic, traditional and very fun adventure. You cannot miss this must-do experience.
Included
The private tour includes:
Round Trip Private Transportation from your Hotel in Merida and surroundings
Bilingual Tour Guide who will be with you since the hotel lobby
Visit to the Mayapan archaeological area, with a visit to Homun Town
Visit to the Santa Barbara Cenotes (natural sinkholes)
Tour on board of the little Trucks pull by horses taking you through 3 different cenotes
A traditional Yucatan buffet located in the Santa Barbara Cenotes which includes: (main dish and drinks).
On board cooler with beers, sodas and bottled water
Not included
Recommendations
Comfortable walking shoes
Bring a cap or hat
Sunblock lotion
Prices ()
Passengers
1
2
3
4
5
6
7
8
9
10
11
12
13
Price per Adult
388
219
161
140
122
110
102
98
93
93
93
93
93
Price per Children 3-10
70
70
70
70
70
70
70
70
70
70
70
70
70
Note: 13 persons max per vehicle regardless of ages.