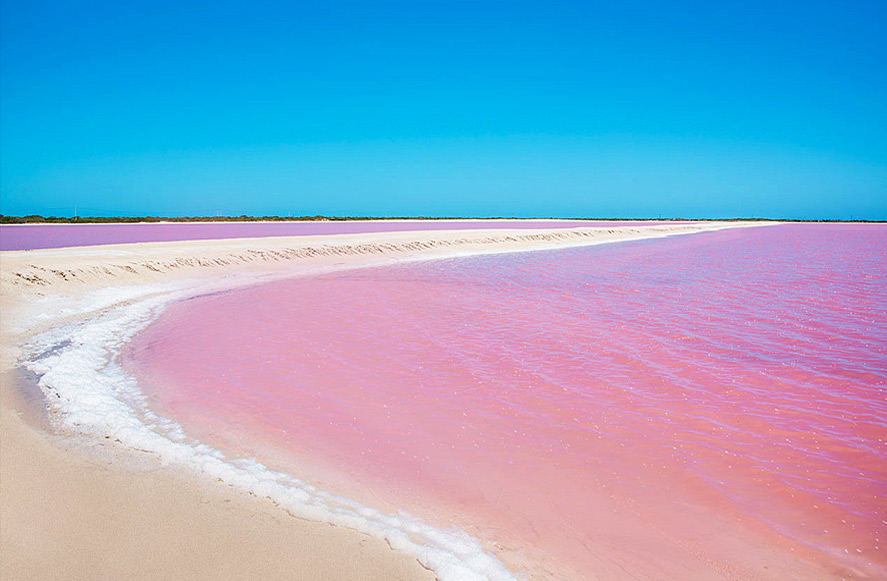 Las Coloradas and Ría Lagartos, a different day
One of the Yucatan Peninsula's most underrated attractions awaits for you in the biosphere reserve of Rio Lagartos: the lagoons of Las Coloradas and Ría Lagartos. Located in the Northern shore of the peninsula, north of Valladolid, this site is reachable from Mérida, Cancún and the Riviera Maya. In here you will find a series of lagoons of bright colors that change throughout the year, ranging from deep greens and yellow, to the intense pink color that they're best known for. A combination of high concentration of salt in the water and the abundant presence of microorganisms are responsible for this spectacular phenomenon that will have you doubting if you're still on planet Earth.
More than just pink water
The beautiful natural landscape of this area makes the biosphere reserve of Ría Lagartos a truly wild place full of life, perfect for you to connect with nature. Here you can find an abundance of birds of dozens of different species including the stunning pink flamingoes that arrive here in the months of January-September in numbers of more than 20,000 individuals. Besides birds you'll see a rich variety of other fauna like reptiles and some mammals. Besides this, you'll be able to explore the mangrove forests that are characteristic of this place.
You'll find that the area has a lot more to offer than just natural attractions. This region is rich in history and culture; Las Coloradas has been one of Mexico's most important salterns since Prehispanic times. There are also colonial haciendas and convents dating back to the 16th and 17th centuries, and Mayan sites from centuries before. Last but not least you'll find here a paradise for any foodie: true local Yucatan cuisine.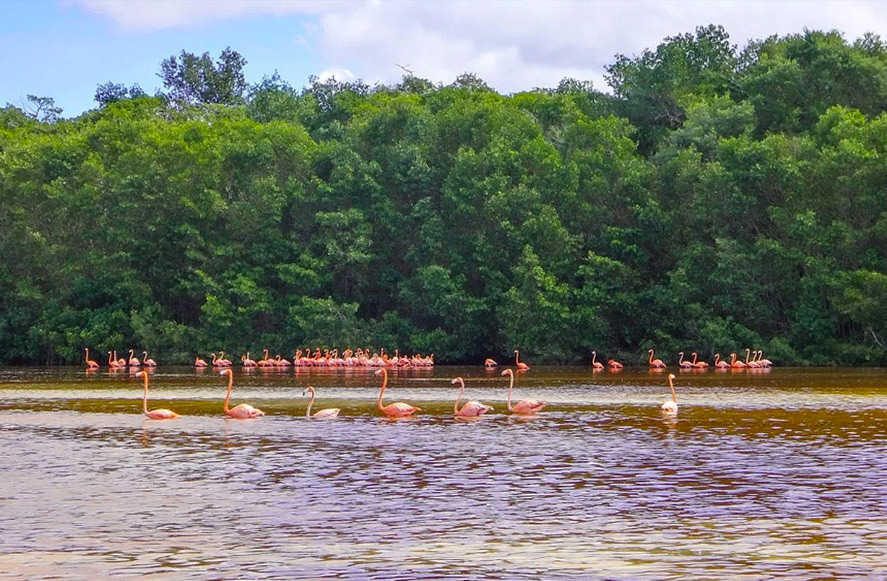 An all-day experience
The tours to Ría Lagartos and Las Coloradas usually last all day since they begin with a long but enjoyable car ride. Through this highway you'll find many other interesting attractions like the picturesque town of Valladolid with its colorful streets, the convents and haciendas of the area, a lot of cenotes and many delicious restaurants. Our tours usually begin with a visit to a beautiful 16th century hacienda where you can enjoy a typical local breakfast, followed by our visit to Las Coloradas and a boat ride through the mangrove forest and lagoons of Ría Lagartos. We will spoil you by taking you for a naturally exfoliating clay bath and we'll end our day having lunch at one of this town's charming seafood restaurants. Don't wait any longer and book your tour today and go enjoy a different kind of day.
---
Comments