Cuzamá and its amazing cenotes
The trip to Cuzamá will be, from start to finish, an unexpected adventure.
If you are in Merida or near Valladolid, this trip is a must.

Travel in a strange and fun way.
Cuzamá is an area where three of the most beautiful underground cenotes in Mérida are found, and arriving is part of the charm, because it is through old rails used for mining cars, which have been conditioned to be used as tourist transport, pulled by mules, called "trucks".
These mining carts were previously used to transport the henequen plant on rails to the different haciendas in the region, but now they have been converted into vehicles with a capacity of up to four passengers and, depending on which "Parador Turístico" you approach, you will see that only they will travel with a horse or mule power on the rails. But the speed is perfect to travel and appreciate all the possible postcards that a jungle can offer you.

Get ready for a three-hour tour and lots of fun.
Something you should consider to make this trip to three different cenotes, is the time, along 7 kilometers of rails there will be 4 main stops: Chelentún, Chak-Zinik-Ché, Bolom-Chojol and the return to the initial tourist station. So it is useful to know that the last "truck" is authorized to leave at 3:30 p.m., since we must consider the time of return and approximately 30 minutes of stay at each cenote. Ask here for the available schedules, prices and reservations necessary for a spectacular tour.

Chelentún, a cenote that adapts to your experience as a diver. It is a cenote of with access and better conditions to practice spelunking and diving, offers short depths to swim safely or practice snorkeling and also areas with caves in which experts have submerged to more than 100 meters. Its appearance is like that of a light blue mirror, with a general visibility of 50 meters, which will allow you to appreciate it without having to immerse yourself too much, and at a stable temperature of approximately 26 degrees centigrade up to 18 meters deep. The rustic staircase to descend to this spring of crystal clear water will allow you to make some dives before leaving.

Chak-Zinik-Che, the indigo cenote in the form of a pitcher. It is another cenote that also has stairs that allow you to descend without problem about 20 meters to a body of water of intense indigo color, but that does not diminish its transparency, nor its warmth of 27 degrees centigrade, nor the fun in its waters, Because of these characteristics, it is one of the favorites of visitors.

Bolom-Chojol, the cenote with the vault that changes the color of the water. This is the cenote with the most complicated access because there are no steps to descend, the only entrance to this beautiful place is by a vertical staircase, but soon you will see that the effort will have been worth it because Bolom-Chojol has a vault through which the rays of the sun filter, that will make you see the waters in different shades ranging from emerald green to turquoise blue, it is an excellent swimming pool. The temperature of the water is similar to the others and of all of them is the cenote with the lowest depth, which reaches only 40 meters, but no less beautiful because of it.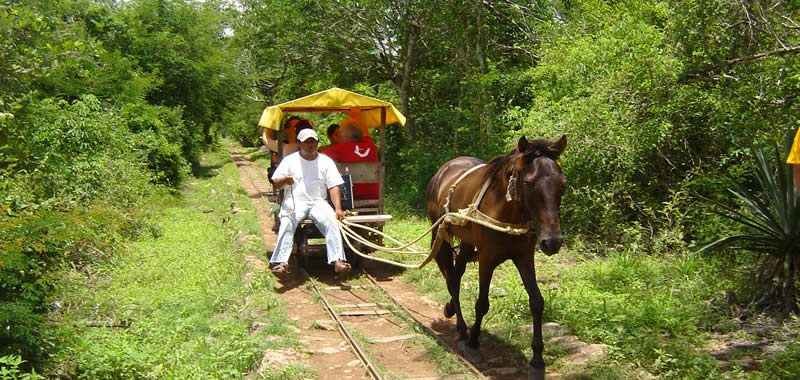 All the cenotes have the essential services of sanitary services. At all times listen to the instructions of your guide, preserve the conditions of these places, do not litter. If you do not have enough experience it is better to stay in a safe place, all the cenotes have caverns that can confuse your way back, even the most experienced divers can become disoriented. To enjoy more of this tour, we recommend:

Biodegradable mosquito repellent and blocker.
A waterproof backpack.
Sandals that can be fastened or "aqua shoes".
Microfiber towels, they are more compact and easy to transport.
Waterproof camera.
Submersible Covers or Packs.
Snacks to consume on the way back to the tourist station.
---
Comments