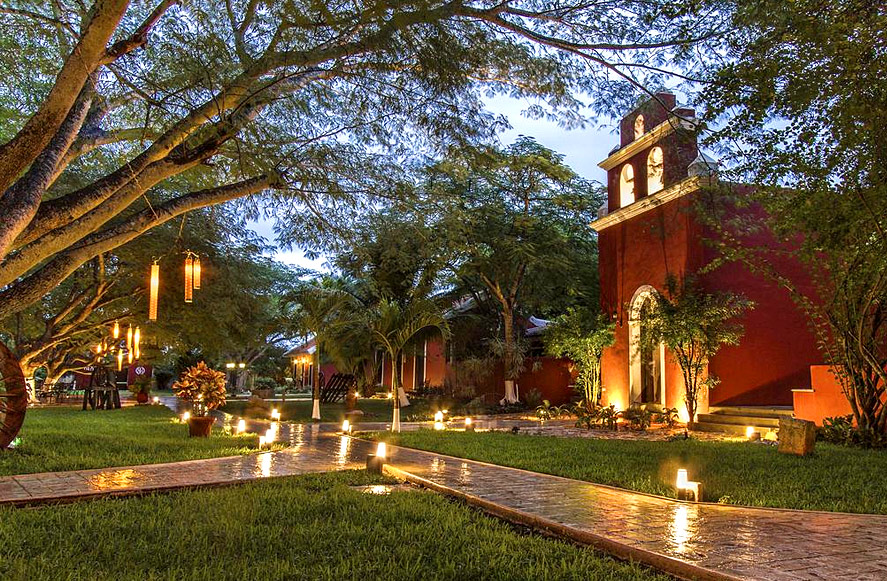 Yucatan haciendas, legacy of green gold splendor time
Stately homes, comfortable rooms, large gardens, creative pools and an exclusive splendor of the great landowners of yesteryear that you can enjoy today just by staying or visiting them.
Towards the second half of the nineteenth century, relatives of prominent gentlemen, who at the time of the colony amassed their wealth by dedicating themselves to livestock, found in the henequen [a type of agave] a real gold mine. This fact was due to different social struggles that caused the closure of the sugar industry. With the technological advances of those times, new machinery and new ways of obtaining raw material were invented.
Such was the case of henequen fibers that were used for various textile products such as rugs, bags and ropes with which they tied the boats. From a 100% artisanal process to an industrial one that created enough product to export to the United States, thus becoming the predominant economic activity of this state with for more than a century.
Due to this economic boom, the henequen landowners built majestic properties that, in addition to a glorious past, today reveal an avant-garde tourist service. In more than one of these haciendas of Yucatan, which today provide hotel services under the concept of "boutique hostels", you will find a passion for detail that makes its guests enjoy exclusive amenities and a pleasant privacy.
On your next visit to this beautiful state, we suggest you take at least one day to visit the Ruta de las Haciendas in Yucatan, or visit one that interests you, there are more than 80, surely you will find one that fits your wishes and budget. Here we present 5 of them.

Temozón, the exhacienda with luxury in every detail
Temozón is a sample of how innovation can add value to classic luxury. In addition to preserving the old machine room and drying patio of the processed henequen textile fibers, the owners of this magnificent henequen, have added sumptuous services to emphasize their exclusivity and have built a helipad to provide their guests privacy and discretion. Former US President George Bush and singer Shakira have been guests here.
This place has 28 suites equipped with luxury details and a spacious presidential suite known as "el cuarto del patrón" which includes a living room, a waiting room, a library, a bathroom with a tub and stone sinks as well as a terrace with a private pool. Added to this, the service of local cuisine and international cuisine is first class and in the back of the complex guests can enjoy a cenote. If you are fascinated with your comfort and prefer the exclusivity in facilities and services instead of the bustle of the big resorts, Temozón is the ideal place to enjoy an excellent rest.
Xcanantún, the impressive Stone house with award winning gastronomic services.
Only five minutes from Mérida is Xcanantún, better known as the "Casa de Piedra", an 18th century hacienda that is run by the owners Jorge and Tina, but the personalized and warm treatment is not the only differentiator of this place. This hacienda has undergone a long process of restoration that has made possible the conservation of ancient architectural elements and exquisite original ornaments, but at the same time integrating modern and luxurious comforts.

Xcanantún today offers 18 beautifully decorated suites with distinctive hammocks of this beautiful state, hydrotherapy tubs or stone tubs with waterfalls, multi-award-winning gastronomic service, the most extensive wine list in the region, large gardens and a swimming pool, and even an original spa service in which it is possible to experience healings inspired by Mayan rituals.

San Pedro Ochil, a variety of attractive options for every day
There are several peculiarities that the former hacienda San Predro Ochil posses, this place also works as a tourist hostel, with handicraft workshops that are part of the project "Haciendas del Mundo Maya", the Museum of henequen Haciendas, which shows the development of the henequen industry, an amphitheater for outdoor shows, swimming pool, and even access to a semi-open cenote that is possible to visit even if you do not stay here.

Another of the attractions of this hacienda are guided tours through the facilities in "trucks", a rustic transport of the region that circulates along the rails that were used to transport henequen and that are pulled by mules or horses. Finally there is also a restaurant and large gardens with ponds.

Sotuta de Peón, where the henequén process is alive
Here you can also take a tour in "trucks" around the magnificent estate, but in addition to the facilities you have the opportunity to admire the henequen fields, make a stop at the Dzul-ha Cenote, and visit the Machine House on foot where you can observe much of the process of extracting henequen fibers and get to know the Main House where you can admire the splendor of the lifestyle of the great landowners.

After this trip in time, you can move to one of the 30 available cabins that are part of an extensive villa surrounded by tamarind trees and ceibas. From the branches of some of them, you will find beautiful hammocks that are still made with henequen fibers produced in this same place. You can also find all the services for rest and recreation, such as a pool, massage service in the cenote, restaurant and large green spaces.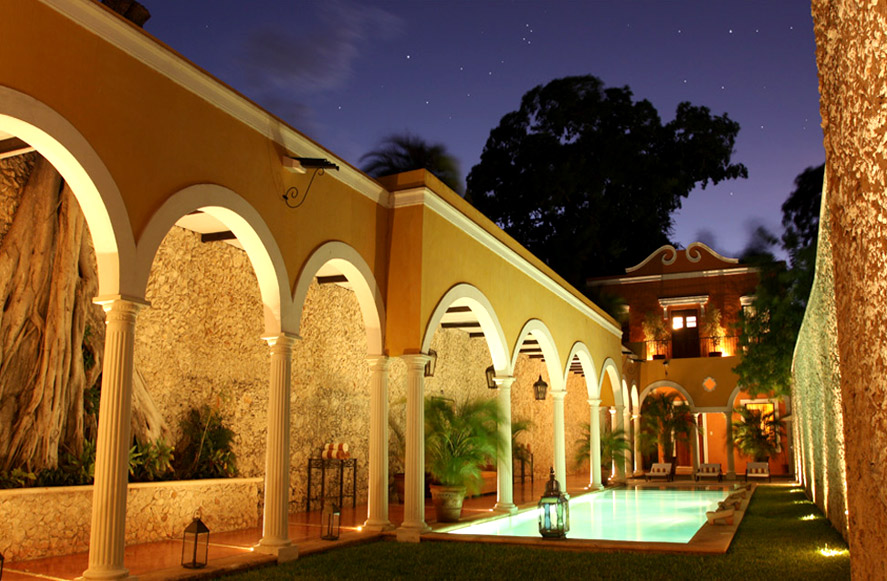 Hacienda de Santa Cruz, from monastery to hotel
You will find that the architecture of this hacienda is very special; this is because this majestic hotel originally formed part of a Franciscan monastery in the 17th century. Two centuries later, at the end of the 19th century, it was one of the most prosperous henequen plantations in the region.
The lodging options here are varied: master suites, junior suites, superior double rooms with a private terrace and even a small house for 5 people.
The charm of this hacienda is to stop in time while you allow yourself to be pampered with the services and facilities that it offers such as the spa, the Valentina restaurant with local cuisine and international fusion, the chapel, the gardens, sports areas and the cenote style pool.
---
Comments