Celestún, a paradise of crystal blue and pink colours
Hundreds of flamingos make this enviable place their temporary home. A wonderful landscape for visitors.
90 Kilometres from Merida City, you will find a magnificent "Biosphere Reserve" called Celestún. Its natural characteristics make Celestún a unique place. It is located right at the mouth of one of the most important underground rivers in the Yucatan peninsula, and stretches along a corridor of coastal wetlands. Due to its environmental richness, Celestún is considered one of the best preserved natural reserves in the world and possesses a huge range of independent flora and fauna ecosystems. These include swamps with indigenous plants, dunes, grasslands, low jungles and petenes (small islands covered in vegetation).
Celestún is a paradise where you can admire life in a splendorous mosaic of different tints of pink.
The clear blue and turquoise waters of Celestún are just one of the many attractions you will enjoy, and it is also the home of over three hundred different species of birds. Migrating pink flamingos that give an amazing pink aspect to the landscape are without a doubt, the most emblematic species of in this area. They complement an already colourful place that is also inhabited by Woodpeckers, Hummingbirds and Motmot, also known as "pendulum birds" as their main characteristic is a long-feathered tale that resembles two rowing paddles. Some other migratory species are ducks, tiger herons and frigatebirds. Added to all this, two hundred and thirty-four different species of mammals, three species of turtles and two of crocodiles, make Celestún their home.

What to do in Celestún?
Bird watching. More than a just hobby, bird watching is a therapeutic, relaxing and creative activity as great thinkers in history have demonstrated. Aristotle, Da Vinci, Reichelt, Cayley, Chanute and the Wright brothers, to name a few, developed many of their ideas through observing and analysing the way birds fly but also, they found that bird watching was an inspiring pastime.
Kayaking, canoeing, bicycle rides or just a gentle walk along the swamp. When we hear the word "Swamp", the image of dangerous crocodiles or water snakes may come to mind. But in the tourist stop of "Dzinitún", there is a swamp where you can enjoy different (ludic or recreational) activities in a safe environment. In this place a group of locals that work as a cooperative, offer trips in canoe through a tunnel of mangroves or, alternatively, you can also enjoy round trips in kayak or bicycle rides to the heart of the swamp. Night trips where you can go crocodile spotting are also available, and there is also a restaurant where you can enjoy delicious regional traditional food.
The water spring of "Baldiosera" and the "Petrified forest" at Ría Celestún. Through a causeway made of rustic timber and between huge trees, a crystalline body of fresh water surges out of nowhere as if it was a heavenly dream. "Baldiosera" is a beautiful fresh water spring and it is an ideal place to stop for a moment to refresh yourself. The spring is home to various types of fish and you can swim in it, but for your own safety stay close to the dock.
Close by, you will find "The petrified forest". An amazing swamp that is formed by dry trees with white trunks and deep roots that, as a result of absorbing the excess of salt in the water have become petrified giving a surrealist effect to the landscape.
Celestún beach, ideal for swimming and dining. The white sands at Celestún beach are ideal to sunbathe away from the crowds. Its calm waters make it the perfect place to practice snorkelling or simply just swimming. As fishing is one of the main activities in this region of the Yucatan peninsula, we recommend you take the opportunity to indulge yourself with fresh seafood dishes served locally. Some specialities you should try are: Fish fillet "Mero Xixim" style, octopus "Ceviche" style and the refreshing drink "Agua de Chaya".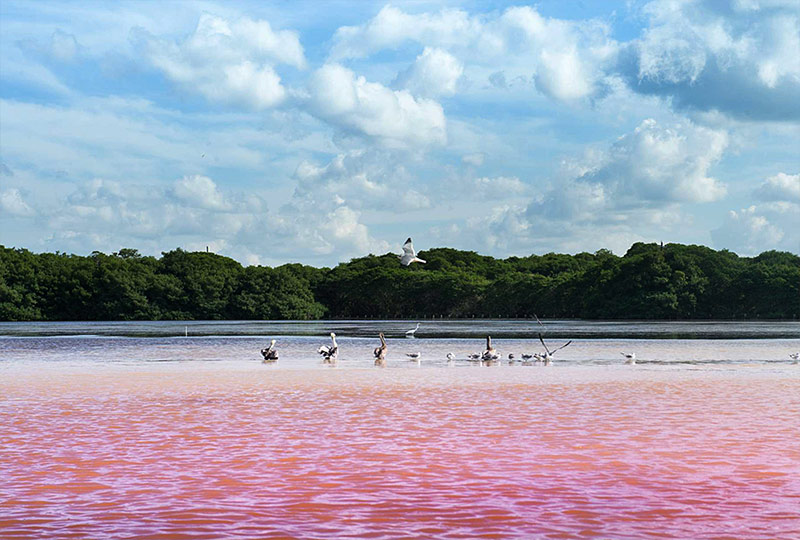 TIPS:
To witness the gathering of groups of up to fourteen-thousand flamingos, we recommend you plan your visit during the winter, ideally between the months of December and February.
Help to preserve the equilibrium of this important natural reserve by using biodegradable sunblock and biodegradable insect repellent.
If you are a photography enthusiast, don't forget to bring a powerful zoom lens among your equipment. This will allow you to take better panoramic shots of the landscape and of the flamingos from a reasonable distance.
You should know that menus often vary between restaurants by the sea. Restaurants away from the beach tend to be cheaper, however, there are many dining options to suit all budgets.
Hats and sunshades are indispensable here as well as comfortable and fresh footwear. Finally, don't forget to bring a towel good enough to sunbathe.
If you need more information visit our Tour to Celestun or if you want to combine them with other places contact us here
---
Comments