Who said that colonial cities are boring?
Valladolid has everything to have a great time, depending on how deep you want to go inside. Here you will find archaeological sites, culture, gastronomy, history, fantastic places and more!
What makes Valladolid different?

Because of culture. Valladolid is a historically significant place.
In pre-Hispanic times it was the obligatory passage for pilgrims and merchants who traveled the paths known as "white roads", which lead to important places such as Chichén Itzá, Cobá, Yaxunah and Ek Balam, main pre-Columbian cities of the Yucatan region.
In this place, in 1847 the so-called "War of the Castes" was consolidated in which the Mayan peoples of the south and east of Yucatan rebelled against the yoke of the Spanish conquerors, the criollos and the mestizos and in this way became a precedent of the social movement of 1910, and was a precursor to the uprising against the dictatorship of General Porfirio Díaz. It is for this reason that this place is known as a heroic city.

To eat delicious meals and a lot of shopping! Valladolid is one of the best places to get to know local food and crafts.
One of the best experiences in Mexico is to go to the market, typical places of day to day purchases, to buy fresh and natural perishable products for the preparation of delicious dishes. The wide variety of fruits and vegetables are enough reason to know and taste them.
And Valladolid is not the exception, in the municipal market, called Donato Bates, you can buy regional products at very accessible prices; here you can also eat local dishes that would be much more expensive if you decided to try them in restaurants: the cochinita pibil, the longaniza asada, the lomitos and the escabeche, are names of traditional Yucatecan dishes that you cannot miss.
Once you have satisfied your gastronomic curiosity, at least for a moment, the must-see places to collect beautiful memories of this place are the Handicraft Market of Valladolid or the Zací Crafts Center, named after the pre-Hispanic name of this place: Anhsaciual, which means "White Hawk" and which refers to a revered Mayan patriarch.
The expert hands of craftspeople of this region will show you the great jobs in saddlery, carved stone, jewelry and their experience with the yarns that form garments such as huipiles and guayaberas, or with items such as hammocks that will bring elegance and comfort to any garden.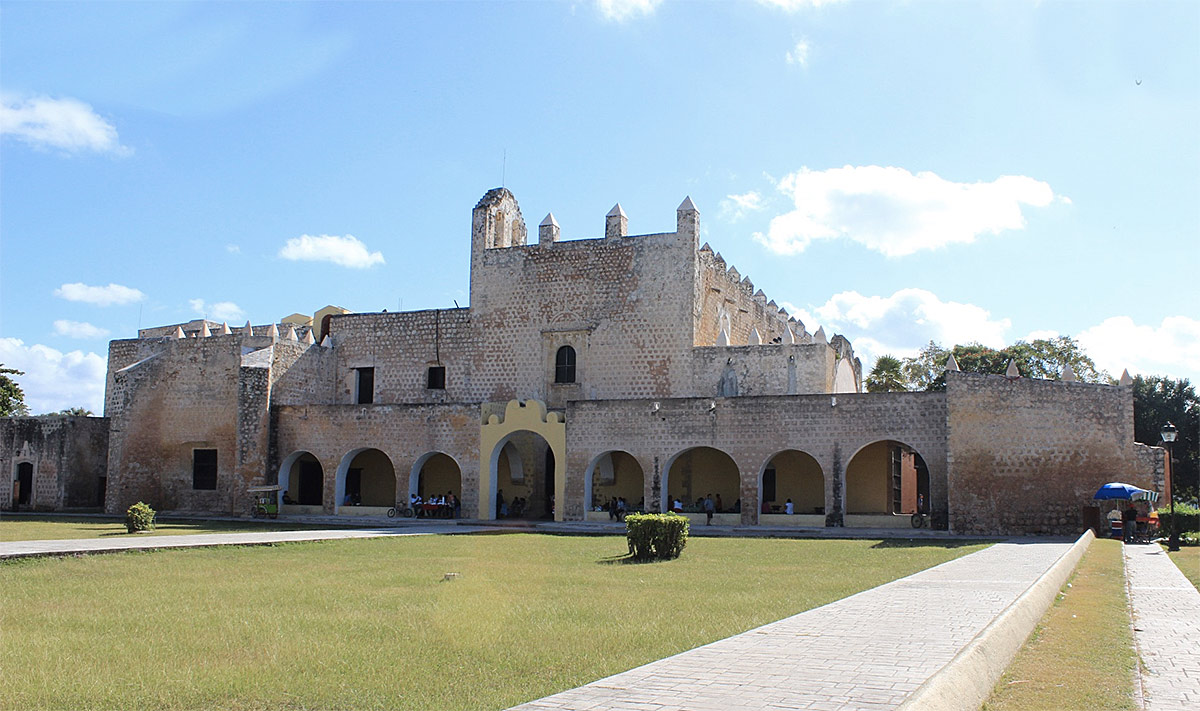 Because of strategy, you can move from tranquility to great adventures!
The relaxing tour that you can do by bicycle or on foot to places such as the fountain park of La Mestiza, the convent of San Bernardino de Siena and the Church of San Servacio can become great adventures if you decide to discover at least 3 of the nearest cenotes: Zací, Ik'kil, Saamal and Samula, which are incredible places, surrounded by lush vegetation and crystal clear waters for diving, snorkeling or without it, and for the most experienced, free diving. All these places have shower services, toilets, lockers and restaurants.
Ría Lagartos and Punta Lagunas are two great options to spend the day in natural reserves, surrounded by the local fauna, tranquility and good food; but if what you are looking for is something more wild, venture to go a little further to a beach of pink lakes as there is no other: Las Coloradas, which is actually a salina that offers landscapes that amaze locals and strangers alike.
And of course you cannot miss the occasion of your visit to this place to see at least two of the most representative archaeological sites in the area: Ek Balam and Cobá.

A magical town that allows you to know the Mayan and colonial aspects of its inhabitants
This is Valladolid!, an enigmatic place to surprise the national and foreign tourists with walks to enjoy every day, each one completely different from the other, that's why they call it "La Perla de Oriente", and you can find it just a couple of hours from Cancun.
---
Comments